What are some great attributes and badges for NBA 2K22's newly released GO Jayson Tatum?
NBA 2K22
Date: Jan/22/22 15:39:51
Views: 625
As the 4th season of 2K22 progresses, 2K has introduced a new Galaxy Opal player, Jayson Tatum, following the previous Galaxy Opal Yao Ming card. As before, players do not need to use NBA 2K22 MT to get it but need to Complete tons of tasks.

Jayson Tatum - 97 OVR - SF/PF - Galaxy Opal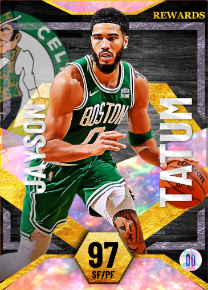 The stats of the GO Jayson Tatum card are excellent, with 99 Offense and 98 Defense. Not only that, but it also has 94 Shot Mid and Shot 3pt to give you more shooting opportunities while playing. 92 Speed ​​and 90 Speed With Ball can quickly get rid of opposing defenses, as well as 94 Stamina, 90 Driving Dunk, and 93 Perimeter Defense.

In addition to having great offensive and defensive attributes, GO Jayson Tatum also has a perfect badge.

Finishing




Shooting




Playmaking




Defensive




Personality




It can be seen from the above data that this is a perfect Galaxy Opal card. Therefore, it is not so easy to get it. Challenges await you. You need to complete each group of 5, a total of 6 groups of challenges, and there are 12 in the end. Some of these challenging tasks require players to spend a lot of time and energy. Fortunately, the challenge period is also sufficient, as long as they can be completed before February 25, 2022.